History of the Rhoenrad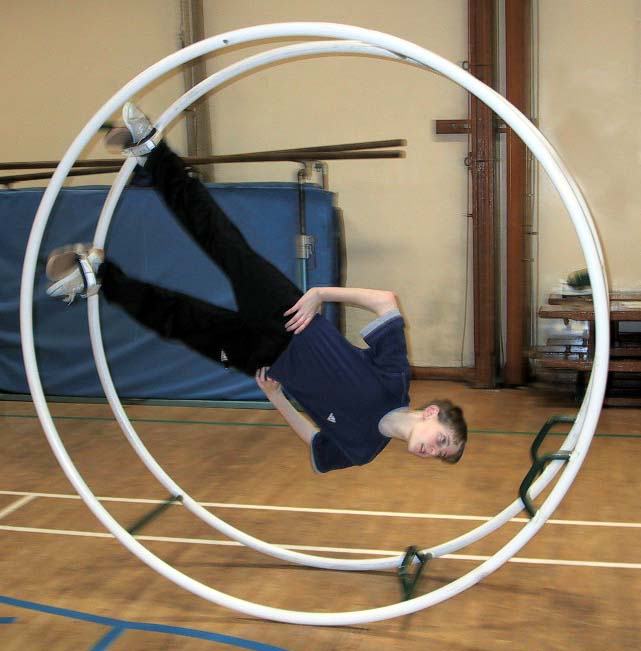 After the first World War Otto Feick, a railwayman and son of a blacksmith was imprisoned. While in prison he remembered an experience of his childhood, where he rolled down a hill in two barrel rings which were tied together and Feick planned to build a gymnastic apparatus out of his childhood dream. After his release he developed the Gymnastic Wheel which he called "Rhoenrad" and in 1925 Feick patented the wheel and reserved all rights in 30 countries. Feick gave presentations in England, France and the USA supported by a group of selected gymnasts and the first international Gym Wheel contest, took place in Bad Kissingen in1930. This become the basis of future international Gym Wheel competitions. The international development was interrupted by the second world war, but afterwards some gyrowheel enthusiasts started again and In 1959 Rhoenrads became part of the German Gymnastic Federation (DTB).

History of the Torwood Wheelers

My first sight of a Rhoenrad was in 1969 at the Basle Gymnastrada where I was a member of the S. England display team coached by Fred Lodge (if any of that team read this I would love to hear from them). I stood in a wheel and rocked a little, but then never saw one again for nearly 30 years! During this Time I was always involved in gymnastics and in 1997 I was looking for something different for our older gymnasts to do, so I started a search on the Internet to find out more about rhoenrads. With the help of international contacts I located 2 wheels, one in Dundee, and one in London and after getting these to our gym club, we started on the long road of learning to use them. Three of us attended the Rhoenrad Summer School in Wolfstein in 1998 and came home with a 3rd wheel on the roof of the car and we have had many wheeling experts visit our club and give us help, including the 1994 world straight line champion and the current Finnish champion. Finally in Jan 2000 The Torwood Wheelers came into being. Four of us went to the International training camp in Bergen last summer where we trained with 300 wheelers from all over the world. During our first year, we worked hard at publicity have now bought 4 more wheels thanks to a lottery grant of £2,618. This now means that we have the range of wheel sizes to be able to run a proper club.

The sport of rhoenrads

The sport has 3 basic disciplines

Straight line

– where the wheel rolls on both rims while the gymnast performs moves within the wheel.

Spiral - where the wheel is tipped onto one rim and rolls in a circle, or spins like a coin.

Vault - where the wheel is set rolling and the gymnast runs after it performing a vault over the top. This discipline is not so common and I will do no more than mention it here.

In straight line and spiral, the feet can be held in nylon or leather bindings, or for more advanced moves they can be free. There are two sets of handles for your hands, but again there are many moves where the body is supported entirely by the feet.

Whilst different from conventional gymnastics, nearly all the moves are easily recognised by a gymnast, handstands, upward circles, short back circles, squat jumps etc. the difference being that your bar is attached to a rolling wheel and you need to complete the moves before your bar reaches the floor! This tends to sharpen your timing!