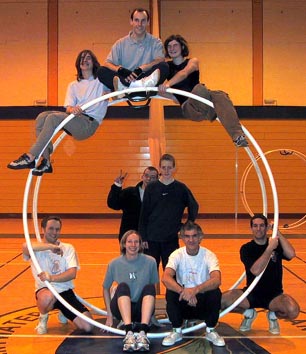 SPIN MACHINE: Top row (from left): James Gardiner (Orford),
Ben Tristem (Orford) and Georgie Gardiner(Orford). Middle:
Ralph Nevyn (London) and Daniel Lewis (Ipswich), Bottom:
Iain Russell (Guilford), Maike Both, visiting instructor, John
Colles Torwood Instructor and Richard Stock (Amersham)
Photographs: CONTRIBUTED
Reinventing the wheel in Suffolk
THE Torwood Wheelers held their third full day training course at the Rendlesham Jets Sports Centre on Saturday.
Participants came from as far as Guildford, Amersham, London and Stevenage. The Torwood Wheelers now own seven wheels and are the only centre for rhoenrads in this country.
The sport of Rhoenrads, (or gymnastic wheels) originated in Germany in the 1920s and is now practised in many countries.
Germany and the Netherlands are the biggest participants, but there are also several clubs in Norway and Finland.
Many other countries from America to Australia have a few clubs, but in England there is just one.
For the training day the club had the help of Maike Both, a German instructor now living in England, who passed on her knowledge and experience, not to mention some spectacular displays of wheel control.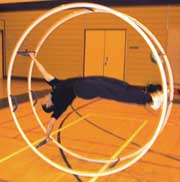 AROUND AND AROUND: Ben Tristem of Orford,
demonstrates the sport of Rhoenrads
The Torwood Wheelers club now meets each Friday evening at 8pm at Rendlesham Sports Centre, near Woodbridge, and welcomes new members aged 16 or over.
Anyone interested should contact John Colles on 01394 460233, or e-mail:
wheels@colles.me.uk or drop in one Friday. Spectators are always welcome.