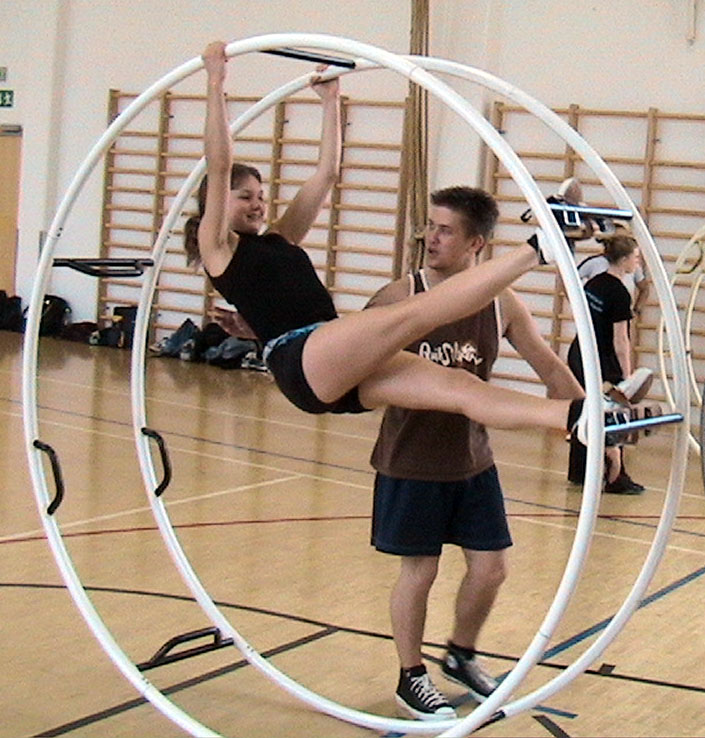 EASY DOES IT: Lucy Osborne, of the Ipswich-based Torwood Wheelers Club, being helped by Jarrod Cuff from Australia at the rhoenrads international training camp in Finland. See story below
Photograph: CONTRIBUTED
Rhoenrads
International training camp
NINE wheel gymnasts from England spent 10 days taking part in an international training camp in Turku, Finland.
The event, which was attended by over 200 wheelers from many countries, takes place every two years in various countries, and for the first time England was able to provide a sizeable contingent at the event.
Four of the group - John Colles, Tony Quinton, Antony Colles and James Gardiner - are regular members of the Torwood Wheelers Club which trains at the Rendlesham Sports Centre. This is still the only club in England to offer training on Rhoenrads to anyone over the age of 16.
The other members of the group were Emily Dixon, from King's Lynn, Lucy . Osborne from Blackpool and Lesley Gardiner, Amy Steele and Adam Cohen from Circusspace, a circus training school in London where they have two wheels and teach rhoenrads as a circus skill. The instructors in Finland included many of the world's best wheel gymnasts. The first week culminated in a spectacular show by wheel groups from all round the world and apart from greatly improving wheeling skills, the event forged many friendships between the wheelers.
The sport of Rhoenrads, (or wheel gymnastics) originated in Germany in the 1920s and is now practised in many countries, with the Torwood Wheelers the only centre in this country and now owning seven wheels.
. The Torwood Wheelers Club meets each Friday evening at 8pm in the Rendlesham Sports Centre and welcomes new members, male or female, aged 16 or over. Anyone interested should contact John Colles on 01394 460233, e-mail rhoenrads@colles.me.uk, or drop in one Friday and see what the club does.