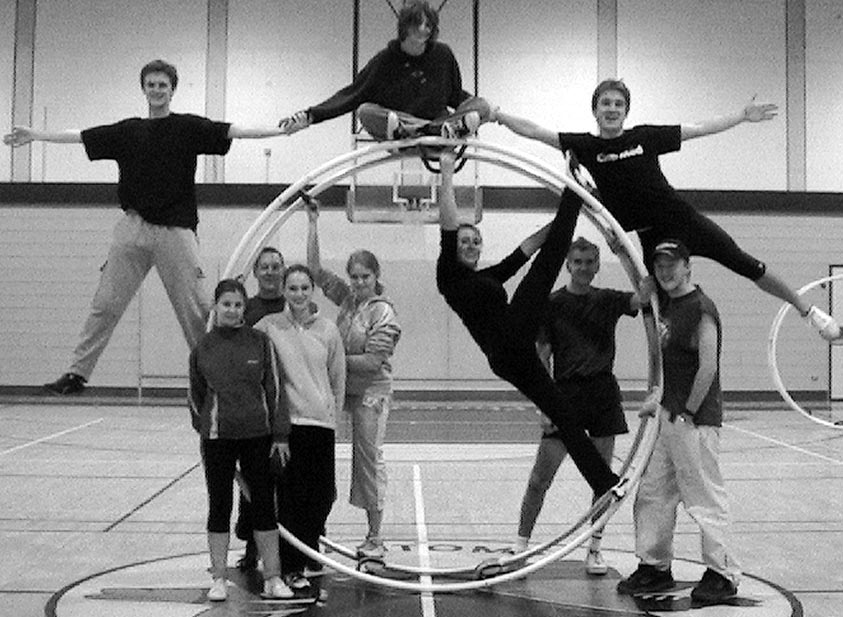 BALANCE: Members of the Torwood Wheelers, who held a 'wheeling days' last week. See storey below Photograph: CONTRIBUTED
---
Torwood Wheelers
THE Torwood Wheelers held another of their wheeling days. A total of 15 people attended, some travelling from as far as Crawley, Hounslow and Cambridge for a day's training. The Torwood Wheelers in Rendlesham is still the only club in the country where anyone aged 16 or over can come and learn to use 'Rhoenrads', large steel wheels which you stand in and roll, or spin like a coin. It is a very exhilarating and balletic sport which requires a great amount of skill to do well, it is a really fun way of keeping fit and the club is always looking for new members. The sport started in the 1920s in Germany and the club was fortunate to have 2 German girls joining for the day.
Kira and Aylin are currently working in England and came over to Rendlesham for the day to help and to show us just what can be done in a wheel.
The club trains every Friday evening at 8:00 at Rendlesham sports centre, and welcomes new members, or if you would like to know more about it, just drop in and watch what we do, or look at our website at http://rhoenrads.colles.me.uk
Last weekend yhe club also gave a well received demonstration at the Rendlesham Church Christmas Fair and many people had a try in the wheels afterwards. Members of the club regularly take the wheels to Hollesley Bay Coloney to teach the sport to the inmates, always a very popular event.